Windward Oahu ranch takes to heart the lessons of the pandemic
Jun 04, 2020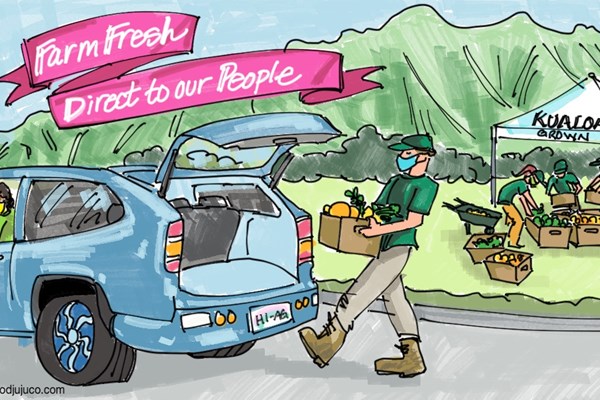 Our weekly series continues, talking story with local farmers, ranchers, and other food producers about their crucial efforts to sustain our communities during the coronavirus pandemic.
New marketplace could become a permanent fixture
A conversation with
Taylor Kellerman, Director of Diversified Agriculture & Land Stewardship of Kualoa Ranch
By Dani Douglass
Taylor Kellerman, Kualoa Ranch's director of diversified agriculture and land stewardship, is just now beginning to welcome guests onto the ranch after being closed for more than two months. He is looking forward to opening a new marketplace next week on the picturesque 4,000-acre property, situated at the base of the Koolau mountain range in Kaaawa.
With tours recently restarted on a limited basis for kamaaina visitors, a previously used buffet lunch building still sits vacant. Staff is currently hauling refrigerators, freezers and farm stand infrastructure from its visitor center into the building in preparation for the market opening on June 9. (The plan is to welcome guests to shop for fresh produce, meats and other products from 9 to 5 p.m. Tuesday-Saturday.)
Swift shift to diversify Kualoa's operations may serve as a community model that continues well beyond the pandemic.
Kellerman said it will open as an all-new ranch experience with COVID-19 precautions implemented. Customers will be paired with a Kualoa staff member who will serve as a kind of personal shopper, retrieving the desired items from shelves. Having only two individuals stocking and retrieving food will minimize risk. After a couple of weeks have gone by and the process smooths out, Kellerman plans to invite other farmers to sell their products in the market.
"We're calling it an unvirtual, virtual market," Kellerman said. "You point and we fill your basket. We are allowing two parties in at a time and we have a shaded waiting area for customers to relax while they wait to shop."
The road to today
The idea for the marketplace spouted from efforts to overcome nearly overwhelming challenges over the past nine weeks to continue supplying the community. As the pandemic shut down Hawaii's visitor industry and stay-at-home orders were implemented, suddenly gone were thousands of customers – visitors and residents alike. The ranch focused on its roots as an ag operation to survive.
As the sun rose each day, Kellerman could be seen working alongside his team, preparing community sale orders. What the ranch's restaurant previously sold was made available to customers driving through the parking lot.
More than 1,200 orders were filled, including various combinations of oysters, grass-fed beef, pork, chicken, free-range eggs, more than a dozen types of produce, and even cut flowers. The thinking behind the community sale operation was that the ranch needed to quickly find another way to get products to the consumer.
"To make a long story short, more than 60% of our markets dropped in 24 hours," Kellerman said. "We were able to utilize the infrastructure. We sent out availability on Monday, people ordered on Tuesday, we packed on Wednesday, sent a confirmation on Thursday, and we did the drive to pick up on Friday."
Fortunate to have the land to grow the food and a new way to deliver items to the customer, Kellerman acknowledged that it still would not have been possible without his dedicated and hard-working team.
"You can respond two ways," he explained. "You can throw your arms up in the air and say 'the sky is falling,' or you can say 'okay, this is when we're needed, so let's turn up the volume and crank. And all the people I work with here at Kualoa have been amazing; they said 'let's crank,' and we've taken our production to new levels."
During the stay-at-home period, Hawaii residents changed their behaviors, and one question was how they would obtain food. "Agriculture plays such a key role, and it's my hope that people just don't forget in three months," Kellerman said.
He hopes the swift shift to diversify Kualoa's operations serves as a community model that continues well beyond the pandemic. He's also hoping that habits have permanently changed and that the demand for local products sustains into the foreseeable future.
Moving forward
Now that Kualoa's doors have reopened, Kellerman is optimistic about cautiously opening the marketplace next week. He said the company has a COVID point person who has been working on implementing safety measures and following government guidelines to keep the public safe.
"We know we've reached a much broader customer base with the market – it went crazy on social media ­– so we're hoping that we're going to come out of this with a brick and mortar setup that allows us to keep getting bigger," he said. "Our goal is to make it so successful that we always have something like this."
Follow Kualoa Ranch on Instagram: @kualoagrown
(See KualoaGrown Market details in the Instagram profile)