TheBus 'Free Fare Week' succeeds in promoting ridership, HOLO card ownership
Aug 31, 2022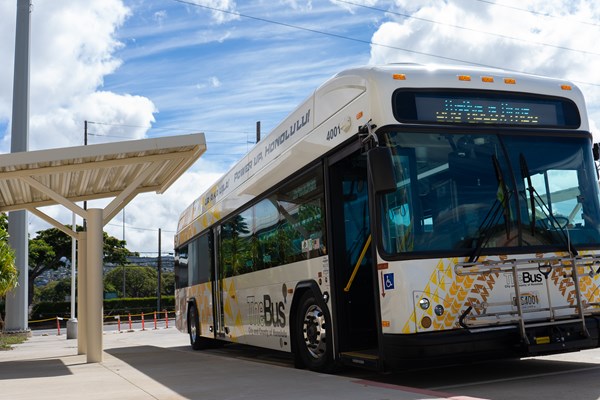 The Honolulu Department of Transportation Services (DTS) was able to hold a Fare Free Week for TheBus riders bearing HOLO cards from Aug. 22 to 26, which coincided with the first week of classes for University of Hawaii campuses and other independent schools.
With ridership down compared to pre-pandemic levels, DTS wanted to invite riders back onto TheBus. As Free Fare Week just wrapped up, the department is still compiling exact ridership numbers; however, there was a noticeable increase in ridership throughout the week, with full buses, more routes, a new Limited Express route, and a significant rise in HOLO card ownership.
UPDATE: TheBus saw a 12% ridership increase from Aug. 22 to Aug. 26 compared to the week prior to the promotion, according to a preliminary report from the city's Department of Transportation Services. The city's paratransit service, the Handi-Van, saw about an 18% boost. Read more in Honolulu Civil Beat >>
"We were excited to finally introduce a fare-free week for Honolulu transit riders," said DTS Director Roger Morton. "It's been something that I've wanted to do for a while, and I'm appreciative to the City Council and residents of Honolulu for finally making this happen."
In addition to showcasing the convenience of riding the City bus, another objective was to highlight the HOLO card, which functions as the main fare payment for TheBus and will be the primary payment method for rail. Registering a HOLO card unlocks its full capabilities, including auto-load, protection against theft, transfer of funds from a lost or stolen card to a new card, and linking and managing HOLO cards within families.
For some, the rides included the City's new fully electric buses, of which there are now 17 fully electric buses providing transportation services to the people of Honolulu. DTS is working toward an all-electric bus fleet to support the state's goal of achieving 100% renewable energy by 2045.
For more information on the HOLO card, registration assistance or card locations, visit www.holocard.net or call (808) 768-4656.