Drive 'Back in Time' to taste a familiar favorite
Jul 30, 2020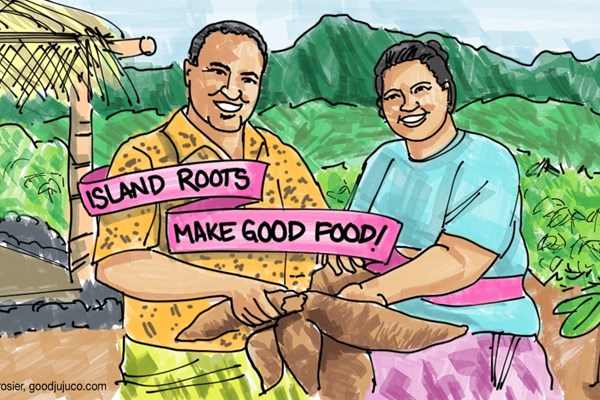 Our series continues, talking story with local farmers, ranchers, and other food producers about their crucial efforts to sustain our communities during the coronavirus pandemic. 
Island Manaia brings cassava to East Oahu residents
A conversation with
Alan and Fuafanua Hoeft of Island Manaia
By Dani Douglass
A food truck named "Back in Time" operates most Saturdays, nestled in Kamilonui Valley in Hawaii Kai and far removed from the main roads. Despite being off the beaten path, the truck has been bustling with customers for the past month and often sells out before the day is over. Co-owners Alan and Fuafanua Hoeft — originally from Tonga and Samoa, respectively — have incorporated their cultures into the menu, which feature delicious choices made from cassava grown on their Island Manaia farm. 
"Manaia means many miracles," Alan explained. That sentiment is reflected in the wide array of products the food truck offers its customers every Saturday. Popular among customers are their cassava-based chips, mochi, malassadas and seasoned mash in its Polynesian luau plate. Other items the pair makes from the tuberous edible plant include flour, bread and noodles.
"We've experimented with different varieties and figured out the best to use for our products," Alan said, noting that it was the Portuguese who introduced cassava to Hawaii.
Fuafanua said that cassava has different names. "In the U.S., it's tapioca, and in other parts of the world it's called yuca, manioc or mandioca," she said. 
Cassava is cultivated in tropical regions and is a part of the spurge family. The calorie-rich vegetable is a good source of dietary fiber, vitamin C, thiamine, potassium and manganese. The Hoefts launched their food truck after the start of the COVID-19 pandemic, when many restaurants closed. They saw it as an opportunity to expose cassava to the community and to share their culture and lifestyle. 
"The idea (to name the food truck) 'Back in Time' was, when you come through town into the valley, you see the farm and where the food comes from," Alan said. "You see our culture and you see how we live." He set up a semi-circular dirt road for a driveway for the food truck and set up basic operations. "We're not high-tech people," he joked. "We are making the food and screaming at each other about the orders and then bring it to the drive-thru."
When he and Fuafanua opened for business, they had a few simple business objectives. "One idea for the food truck was to promote the true taste of cassava," Fuafanua said. "The other reason is because how we eat cassava may not be to this side of the world's taste. We came up with new ways to present it so it will be familiar to them."
It is indeed becoming familiar in the community. Their success has mostly been word of mouth. Local residents often walk by their Honolulu farm while exercising and stop by to ask them about cassava. 
"They stop at our truck and ask 'what are you doing?'," Alan said. "Now we have the opportunity to explain and teach them about cassava and what we do with it — and the whole idea of farming it. We can self-sustain ourselves, and now everyone wants to eat and to taste the 'new potato.' "
Alan said that people are now paying more attention to the idea of food security. "The idea here is to make cassava the new Hawaii potato. Farming shows us how important food security is for us because, before the pandemic, not many people were paying attention to us and now they are all coming to learn about us." 
The Hoefts have faced their share of challenges, coming to Hawaii as immigrants and finding a path to support their dreams. Eventually, Alan started working on a farm in Kamilonui Valley, and his hard work was recognized by Kamehameha Schools when it awarded the farm's lease to him. This land had been prone to illegal dumping for years and required mountains of rocks to be cleared. Once cleared, Alan started his cassava farm. His dream was to produce value-added foods like the cassava chips, but he needed the funding. 
Ulupono Initiative approached him to run cassava yield trials for an animal feed pilot, which he did for several years. This allowing Alan to generate revenue to keep the farm going, while simultaneously earning his U.S. citizenship. He also worked with The Kohala Center and the Small Business Development Center to develop a business plan and secure the money for the food truck. His next goal involves mass production to keep up with the community demand. 
"We don't have enough cassava to keep a supply for every week," Alan said. "Right now, the new normal is that you have to be a drive-through. When we go back to how it was, then we want to have a proper facility — a factory and a license so that we can process and mass produce the products and start supplying the stores."
Above all, the couple has immense gratitude for the people and organizations who've helped them along the path. 
"We want to give credit to Kamehameha Schools for believing in us, the mayor's office, Hawaii Small Business Development Center, Small Business Administration and The Kohala Center." Alan is also grateful for the support Fuafanua and his children have given him. 
Island Manaia is located at 868 Kamilonui Pl. in Honolulu, and the Back in Time food truck is open from Saturdays from noon to 4 p.m.