A sweet partnership in chocolate
Sep 12, 2020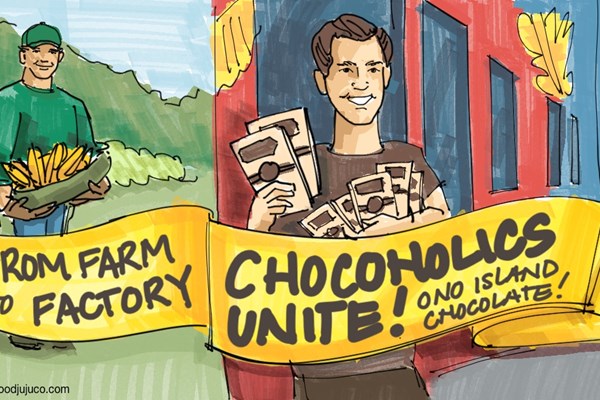 Our talk story series continues with farmers, ranchers, and stakeholders in the local agriculture industry to explore the crucial role of ag producers in sustaining our communities during the COVID-19 pandemic.
Manoa Chocolate Hawaii extends market reach by uniting chocolate farms 
A conversation with 
Dylan Butterbaugh, Founder of Manoa Chocolate Hawaii, and Taylor Kellerman, Director of Diversified Agriculture & Land Stewardship for Kualoa Ranch 
By Dani Douglass 
As more businesses move their sales online due to COVID-19, they are creating new opportunities to showcase the exponential growth of the islands' best products. One example is a sweet bundle showcasing some of the best chocolates from across the state. Manoa Chocolate Hawaii, Hawaii's largest and one of its most recognizable cacao growers and producers, is on track to add a new set to its product lineup in October. 
The offering will include at least three popular selections from Oahu, Kauai and the Big Island. The company currently sells its craft products – including bars, teas, spreads and chocolate-covered coffee beans and macadamia nuts ­– at its factory and storefront in Kailua as well as online. Many of its products are collaborations with local farms, and the company has customers in every corner of the globe. 
Kualoa Ranch's Taylor Kellerman and Manoa Chocolate Hawaii founder Dylan Butterbaugh are partnering to grow the market for Hawaii chocolate.
"The Hawaii Box will feature at least three different estates," said Dylan Butterbaugh, founder of Manoa Chocolate Hawaii. "Putting together these cacao farmers allows us to showcase how different Hawaiian chocolate can be and also reach the largest audience."
The process of Manoa Chocolate working with smaller farms to cross-collaborate is known as white labeling. One Oahu farm involved in that process for a few years now is Kualoa Ranch. Taylor Kellerman is Kualoa's director of diversified agriculture and land stewardship. When he started at the ranch several years ago, about 200 cacao trees were planted. These days that has grown to about 1,000 trees, which yielded nearly 750 pounds of beans this year. 
"We grow, harvest, ferment and dry the beans to a shelf-stable state and then we take it to Manoa Chocolate once we have a certain volume," Kellerman said. "They also provide feedback and assessment, such as flavor tones and quality. They make a lot of chocolate using purchased beans from some of the best producers in the world. Growing chocolate is a craft, but it's the post-harvest handling that is really critical." 
Like many of the farms he works with, Butterbaugh has witnessed the growth and success of Kualoa's product over the years. 
"They dropped off samples and, as they produced more and their trees aged, it started to improve the ferment, and now they have enough volume where we can use our bigger machines and make better chocolate," he said. 
For Butterbaugh, he enjoys the big picture of chocolate production from start to finish. He especially likes the fact that it's done within an agroforestry system and that they are able to plant more trees as they sell more products. With sustainability in mind, the chocolate bars are wrapped in a biodegradable cellulose film. The quality of Manoa Chocolate's products has earned it international recognition, including several accolades from the International Chocolate Awards (Americas). Butterbaugh attributes some of the company's success to timing and the state of the marketplace ten years ago when the operation started.  
"Our timing was amazing because it was the first time that craft chocolate was starting to emerge as a potential industry," he said. "We grow it, add value and then make a high-end product that you can export all over the world."
Butterbaugh also gives back to the community by assisting community farmers with selling their cacao harvests. Manoa currently helps two farmers by taking their fermented and dried beans, making and selling the chocolate, and then splitting the profits. 
This year has pushed Butterbaugh to focus more on Manoa Chocolate's digital presence and marketplace. Many of its customers have disappeared due to the tourism shutdown, causing him to diversify his market. The Hawaii Box will be another quality product he is able to add to Manoa's growing variety of sweet offerings, all while helping to keep his neighbors afloat. 
"When you support local, you can see where your money and support is going and who you're keeping alive," Butterbaugh said, explaining that it more directly supports Hawaii's economy and community.
Kualoa Ranch's chocolate bars and other ranch-grown specialty items are available for purchase at its gift shop, which is open Thursday-Sunday from 10 a.m. to 5 p.m. Manoa Chocolate Hawaii's factory and store are open Monday-Saturday from 9 a.m. to 5 p.m. and Sundays from 9 a.m. to 2 p.m.
Follow Kualoa Ranch on Instagram @kualoagrown and Manoa Chocolate @manoachocolate.